I've been on this culinary journey for a good ten years, collecting knives that have seen me grow from a beginner cook to someone who loves experimenting in the kitchen. You know, a chef's knife isn't just a tool – it's like a trusty sidekick in your cooking adventures. I've had knives given to me, explored a bunch on my own, and even tested a bunch just to help you find your perfect match.
Cooking is all about ingredients, techniques, and the knife in your hand. Whether it's slicing, dicing, carving, or chopping, your knife is like a magic wand that brings your dishes to life. But guess what? There are so many options out there! Knives come in different sizes, materials, handles, and weights, and there's no one-size-fits-all answer. Just like how everyone has their favorite white t-shirt, everyone's perfect knife can be a bit different. And remember, the best quality doesn't always mean the highest price.
To make this whole knife thing easier, I've put my cooking experience to good use and talked to many knife experts – people who really know their stuff. Together, we've searched high and low to find amazing knife options and put them into categories to help you pick the one that's perfect for you.
Whether you're a cooking fan or a pro chef, finding the right knife is like finding a favorite pair of shoes – it's all about what fits you best. But here's the twist: when I asked these knife experts to pick the single best chef's knife, they couldn't agree on just one. Turns out, what's perfect for one person might not be perfect for another. It's like picking the best song – it all depends on what you like.
We'll dive into what makes each knife special and help you discover the one that'll become your kitchen sidekick. Whether you are a beginner or a seasoned cook, you will find something here that suits your style and budget.
In Hurry? Check out this comparison chart
| Image | Model | Prices |
| --- | --- | --- |
| | ZWILLING Professional S 6-inch Chef's Knife | |
| | WÜSTHOF Classic 6" Chef's Knife | |
| | Victorinox 6 Inch Fibrox Pro Chef's Knife | |
| | Mercer Culinary M20606 Genesis 6-Inch Chef's Knife | |
| | Shun Cutlery Sora Chef's Knife 6" | |
Why Use 6 inch Chef Knife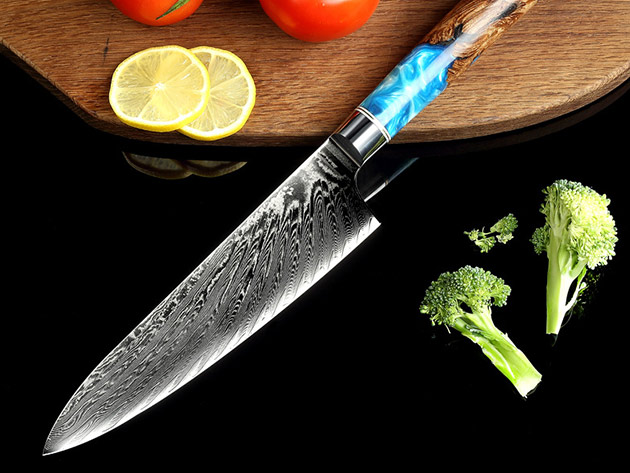 Let me tell you why the 6-inch chef's knife has become my kitchen companion over the years. It might sound like a smaller sibling to its more prominent counterparts, but this little knife holds a special place in my heart for several reasons.
Maneuverability
I remember the early days of my cooking adventures when I struggled with larger knives, especially when it came to precision tasks like mincing garlic or finely dicing shallots. The 6-inch blade feels like an extension of my hand – it's nimble, easy to control, and gives me the confidence to execute delicate cuts without worrying about losing a fingertip.
Control
And speaking of control, it's not just about small tasks. Even when tackling larger ingredients like bell peppers or onions, the 6-inch knife allows me to maintain a better grip and work more comfortably. I can effortlessly glide through ingredients, creating even slices without much effort. This control translates to safer and more enjoyable cooking sessions, which is a big deal for me.
Size
Size matters when it comes to storage too. In a compact kitchen like mine, counter space is precious real estate. The 6-inch knife is a space-saving hero – it doesn't hog up space on the countertop, and when it's time to clean up, it fits snugly in my knife block without causing any overcrowding.
Versatility
This knife is my go-to for a wide range of tasks. From slicing fruits for breakfast to prepping veggies for lunch and crafting a beautiful dinner presentation, it handles it all with finesse. The smaller size also means less strain on my wrist during prolonged chopping sessions, making it my trusted partner for marathon cooking escapades.
Interestingly, I find myself reaching for the 6-inch knife even when I'm using other knives. It's like that trusty friend who always has your back. Its agility and precision make it a fantastic utility player in the kitchen – an ideal choice for both intricate and broader strokes.
Easy to clean
Let's not forget about cleaning. A smaller blade translates to less surface area to clean, making my post-cooking cleanup a breeze. And believe me, after whipping up a storm in the kitchen, a quick cleanup is always appreciated.
Best 6″ Chef Knives of 2023
ZWILLING Professional S 6-inch Chef's Knife

I have been using the Zwilling Professional S 6-inch Chef's Knife for a few months now and I am very impressed with its performance. This knife is a classic example of German craftsmanship and quality, forged from a single piece of high-carbon stainless steel that is ice-hardened for durability and sharpness. The blade is extra wide and has a full bolster that provides a comfortable and secure grip. The handle is made of synthetic polymer that mimics the look and feel of wood, but is more resistant to wear and tear.
This knife is very versatile and can handle a variety of cutting tasks, from chopping herbs and vegetables to slicing meats and cheeses. What makes this knife special is its bigger handle part, which makes it even easier to hold. It's a handy tool for many tasks, from cutting tough things to making food look great. The blade is very sharp and glides through food with ease, without sticking or tearing. The knife is well-balanced and has a nice weight to it, making it easy to control and maneuver. The knife is also easy to maintain, as it can be washed by hand or in the dishwasher, and honed regularly to keep its edge.
I would highly recommend this knife to anyone who is looking for a reliable, sturdy, and efficient chef's knife that can handle any kitchen challenge. It is worth every penny and will last for years to come. The Zwilling Professional S 6-inch Chef's Knife is one of the best knives I have ever used and I am very happy with my purchase.

WÜSTHOF Classic 6" Chef's Knife


This knife is a great example of German quality and craftsmanship, made from a single piece of high-carbon steel that is forged and sharpened with precision. The blade is razor-sharp and stays that way for a long time, thanks to the laser-cut technology and the tempered steel. The blade is also wide enough to allow for a good rocking motion when chopping or slicing.
At 6 inches, this Chef's Knife might seem smaller than its counterparts, but don't let that fool you. Its size offers impressive control, allowing for delicate tasks like mincing and intricate cuts. From meats to veggies, it handles everything with ease.
The handle of the knife is comfortable and sturdy, made from a synthetic material that resists fading and cracking. The handle has three rivets that secure it to the full tang of the blade, giving it extra durability and balance. The handle also has a curved bolster that protects the fingers and allows for a safe and solid grip. The knife feels well-balanced and easy to control in my hand, even when cutting through tough or thick foods.
Straight out of the box, you'll notice the razor-sharp edge, thanks to precision-edge technology. The high-carbon steel blade, tempered for durability, maintains its sharpness through numerous cooking adventures. The handle's three rivets offer both a classic appearance and added strength, while also preventing any sneaky food bits from finding their way in.
What I really admire about this knife is its well-balanced design. It feels right in the hand, making chopping and slicing a breeze. Plus, that thicker part near the handle? It's there for your safety, keeping your hand away from the blade. The knife is also easy to clean and maintain, as it can be washed by hand or in the dishwasher, although I prefer to hand-wash it to preserve its edge. The knife also comes with a lifetime warranty from WÜSTHOF, which shows their confidence in their product.
And oh, the ergonomic handle! It fits like a glove, making every cut fatigue-free. Though the 6-inch blade might seem compact, it's a versatile partner for a variety of kitchen tasks. Just remember, if you're working with lots of big ingredients, a larger blade might have the upper hand.
I would highly recommend this knife to anyone who is looking for a versatile, dependable, and efficient chef's knife that can handle any kitchen challenge. It is worth every penny and will last for years to come. The WÜSTHOF Classic 6" Chef's Knife is one of the best knives I have ever used and I am very happy with my purchase.

Victorinox 6 Inch Fibrox Pro Chef's Knife

Despite their fame for multi-functional tools, Victorinox's knives are carving their own niche in home and professional kitchens, embodying simplicity and practicality—an ideal starting point for beginners and those honing their culinary skills.
This knife shines as a true workhorse, tackling the toughest of cutting tasks with ease, a dependable ally in my culinary adventures.
While it's true that these knives might not be the absolute sharpest in the realm, their stamped blades set them apart among their kind. The Fibrox series boasts an edge that rivals its counterparts, making it a fantastic choice for those looking to learn the art of knife sharpening.
The Victorinox 6 Inch Fibrox Pro Chef's Knife might be budget-friendly, but it doesn't compromise on quality. The high-carbon stainless steel blade boasts rust-resistant properties, ensuring its durability. As a stamped blade, it's lighter and easier to sharpen, making it an excellent companion for a range of kitchen tasks.
Elegance takes a backseat, as the focus lies in functionality. The synthetic thermoplastic elastomers (TPE) handle is designed for a secure grip, showcasing a curvature that nestles comfortably in my hand. The full tang design, where the blade extends through the handle, contributes to its stability and balance.
For beginners and intermediate cooks alike, this knife is an excellent learning tool. Its practicality and efficiency shine, making it suitable for everyday use. While it might not boast sophistication, the Victorinox 6 Inch Fibrox Pro Chef's Knife stands as a testament to the brand's commitment to crafting tools that stand the test of time and tasks in the kitchen.

Mercer Culinary M20606 Genesis 6-Inch Chef's Knife

This knife presents itself as a solid, reliable companion, thanks to its clever construction and thoughtful design.
The first thing that struck me was its weighty yet comfortable feel in my hand. The Santoprene rubber-like handle offered a secure grip, making prolonged cutting sessions a breeze. Constructed from German steel, this knife boasts an edge that's not only sharp but also forgiving—a blessing for those who might not be the most diligent with knife care.
What truly stands out is the fantastic value this Mercer Genesis Chef Knife offers. Despite its wallet-friendly price, it doesn't skimp on quality. Mercer's well-known reputation adds an extra layer of credibility, particularly given its prevalence in culinary academies worldwide.
While it might not be the top choice for seasoned home chefs seeking a premium set, the Mercer Culinary Genesis is a splendid option for newcomers to the culinary scene. Its durable blades and user-friendly handles make it a great choice for a first kitchen or an aspiring home cook.
I was pleasantly surprised by its performance. Slicing through robust carrots felt effortless, and the paring knife proved its mettle in peeling and chopping apples. The bread knife didn't disappoint either, effortlessly handling both crusty sourdough and soft Wonder Bread. However, I did notice that the bread knife's blade felt a tad short for some tasks, which could be a slight limitation.

Shun Cutlery Sora Chef's Knife 6"
Shun knives are like the kings of Japanese style knives. They look fancy, work great, and are well-loved by many. The Shun Classic line is no exception, showing off their skills with cool designs, Damascus patterns on the blade, and really strong steel.
When you buy a cool chef's knife, you're thinking about how it looks and how well it cuts. Shun Classic knives do both really well. They use VG-10 super steel and make it look even cooler with Damascus patterns. This makes a tough, stain-resistant blade that stays sharp for a long time. The steel is super strong (61 Rockwell C hard!) and can keep a sharp edge even with a bit of honing. You don't need to worry about cutting acidic stuff or drying the knife in a hurry. In simple words, it's awesome for serious cooks and regular kitchen heroes.
The handle is made from pakkawood, a mix of natural wood and tough stuff. It's strong, but maybe not the most comfy. The shape is a bit different but still nice. And oh, the knife itself is a beauty! The blade has cool ripples thanks to how they make the steel. Shun does an amazing job making the knife look stunning from every angle.
Here's the good part: Shun is all about quality and they back it up with a 10-year warranty. They'll fix any problems and even sharpen it up for you. In a nutshell, the Shun Cutlery Sora Chef's Knife 6" is like a fancy sidekick that's great for your kitchen adventures.

How to choose 6 inch chef knife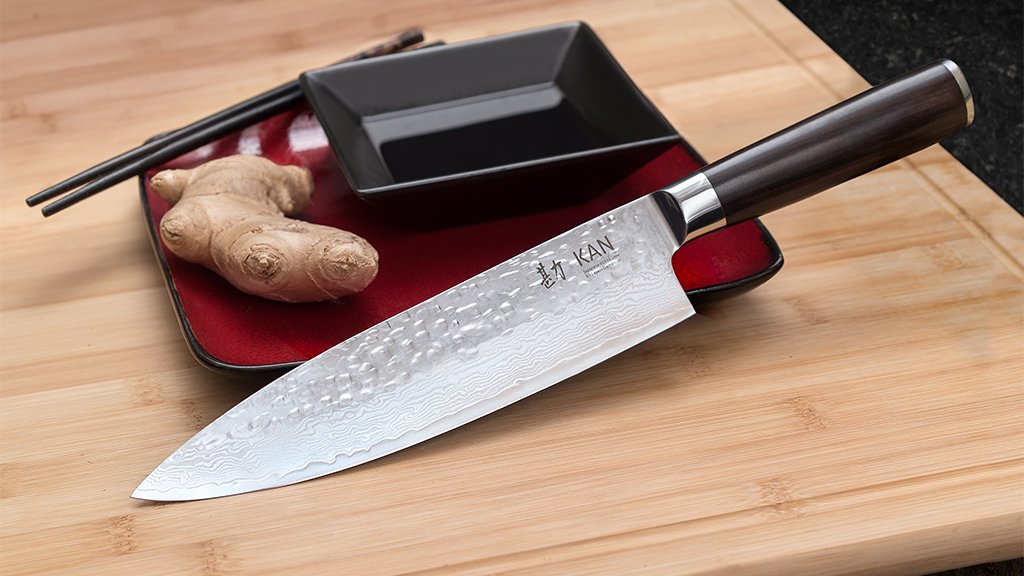 When I'm on the hunt for my ideal 6 inch chef knife, there's a lot to consider. I've learned that every detail matters, from the type of steel in the blade to the material of the handle. So, let's dive into these factors that make all the difference in finding that perfect kitchen companion.
Blade Material and Construction
Starting with the blade, the material and how it's constructed really define a knife's performance. Some knives rock German or Western steel, known for being tough and durable, ready to handle even the toughest ingredients without breaking a sweat. Then there's the Japanese side, boasting blades crafted from harder steel that keep their edge for ages. However, they can be a bit more delicate. It's a balance between power and precision.
The handle
There's a range of materials like wood, plastic, or metal. I've found that it's not just about looks – it's about how it feels in your hand. Wooden handles have a classic charm but might not last as long. On the flip side, plastic or metal handles are durable and easy to maintain, plus they're comfortable to grip.
Weight and balance
I've discovered that a well-balanced knife is a game-changer. It means the weight is just right between the blade and the handle, so you have better control, less fatigue, and more fun in the kitchen. I've met cooks who swear by the heftier blades for stability, while others prefer the nimble feel of a lighter knife.
Sharpness
Sharpness is like a kitchen superpower, and I'm all about those razor-sharp edges. Japanese knives are like the sword masters of the kitchen, maintaining their edge for ages. On the other hand, Western knives might need more attention, but they're versatile and dependable in their own way.
Comfort
A knife's got to fit like a glove, and that's where ergonomics come in. I've learned the hard way that a knife that doesn't feel right in your hand can lead to accidents and discomfort. It's all about finding that perfect shape, size, and balance that feels like an extension of your hand.
How to Properly Care for and Maintain a 6 Inch Chef Knife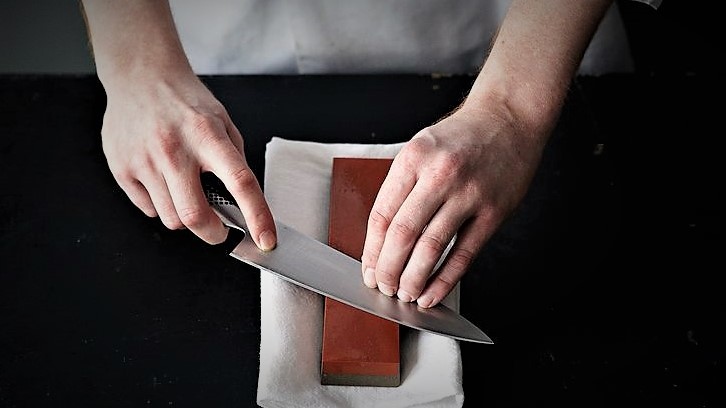 Here's what I've picked up along the way on how to care for and maintain a 6 inch chef knife:
Cleaning and Drying After Use
Once I'm done using my knife, the first step is a good clean-up. I make sure to use warm, soapy water and a gentle sponge or cloth to wipe away any food bits or residue. No heavy scrubbing here – that could damage the knife. I also take a moment to clean the handle, getting rid of any grease or leftovers. After the cleaning, a thorough rinse with warm water is a must. Then, I dry it off right away with a soft cloth. I avoid air-drying it, as that can lead to water spots or even rust forming on the blade.
Storing the Knife Safely
My knife deserves a comfy home when it's not in action. To keep the blade in tip-top shape, I'm cautious about how I store it. It's a no-no to let the blade touch other utensils or hard surfaces. I've found using a knife block, a magnetic strip, or even a sheath does the trick. I steer clear of drawers or containers where the knife might bump into other metal stuff. That could leave nicks or scratches on my precious blade. Oh, and before it goes into storage, it's got to be completely dry to prevent any rust from sneaking in.
Regularly Honing the Blade
To keep the cutting edge on point, regular honing is a game-changer. It's not the same as sharpening – honing straightens the edge without removing metal. Most 6 inch chef knives have a Western-style edge, and honing is their jam. My honing partner is a honing rod or sharpening steel. I hold it vertically, resting the tip on something sturdy, and I've got a solid grip on the handle. The blade meets the rod at a 20-degree angle, and I gently draw the knife down the rod, starting from the heel and moving toward the tip. A few rounds on each side, and my knife's ready to rock again.
Sharpening the Knife When Needed
Honing is cool, but eventually, my knife craves sharpening. This is where a bit of metal is shaved off to give the blade a new, sharp edge. But I'm not a DIY pro at this – I either let the experts handle it or use a sharpening system meant for my knife type. I steer clear of those pull-through sharpeners or bargain-bin stones – they can grind my blade too hard or unevenly. For professional sharpening, I check out local kitchenware stores or trusted online platforms.
Avoiding Improper Handling and Usage
Treating my knife right isn't just about post-use rituals – it's about how I handle it too. No rough treatment on hard or frozen foods, as that can wreck the blade. I reach for a sturdier cleaver or a specialized tool for those tasks. When I'm using my knife, I'm all about a firm grip and finger placement. And I've learned the hard way – no catching a falling knife, ever. A stable surface is where it rests when I'm not wielding it, and the edge of the cutting board is a no-go spot for my knife's solo adventures.
Tips for Using a 6 Inch Chef Knife Efficiently
I've got some handy tips for getting the most out of my 6 inch chef knife. It's all about mastering the basics and honing those techniques to make every slice a breeze.
Getting the Grip Right
When I'm handling my chef knife, the grip is everything. My dominant hand takes a firm hold of the handle, and my index finger and thumb grip the base of the blade. That's the control center right there. My other hand comes on top of the handle for extra stability. This grip combo gives me the precision and control I need for efficient cutting.
Slicing, Dicing, and Chopping Techniques
I've found that nailing these can seriously level up my kitchen game. For slicing, I use a gentle rocking motion, making sure the blade tip stays in contact with the cutting board. When I'm dicing, it's all about an up-and-down movement, sliding the blade with a controlled force. Chopping? That's a quick and fluid rocking motion, letting the weight of the knife do the hard work.
Keeping It Safe
Safety's always at the forefront when I'm using a knife. To steer clear of accidents, keep your fingers tucked away from the blade while cutting. My cutting board? It's got a non-slip surface, so my knife stays put. And for my own sake, I cut away from my body – that minimizes the chance of any mishaps.
Working with Different Ingredients
For big and tough ingredients like butternut squash or melons, I use that rocking motion, letting the length of the blade apply the pressure. When it's delicate stuff like herbs or shallots, I switch to a gentle slicing motion. Adapting my technique to the ingredient makes a world of difference in how efficiently I can work.
Finding the Rhythm
Efficiency in the kitchen is like a dance – and a steady rhythm is the key. I've found that maintaining a consistent pace while cutting helps me keep control. Think of it like a metronome for slicing. This way, my movements stay smooth and controlled, without any rushing or chaos. Practice makes perfect, and over time, that rhythm becomes second nature.
Frequently Asked Questions
Is a 6 in knife too small?
No, a 6-inch knife isn't too small. While the standard for chef's knives is often 8 inches, 6 inches is more than enough for most home cooks. You don't need to be a professional chef to appreciate its versatility. Before I got my own 6-inch chef's knife, I thought it might be too limited, but it surprised me with its capabilities.
Can a 6 inch chef knife handle larger tasks?
While a 6 inch chef knife is excellent for a multitude of kitchen tasks, it may not be the best choice for larger tasks such as breaking down a whole chicken or carving a large roast. For those types of tasks, a longer and heavier chef knife, such as an 8 or 10 inch, would be more appropriate. However, if you primarily cook for smaller gatherings or prefer to have more control over your knife, a 6 inch chef knife can certainly handle the majority of tasks you'll encounter in the kitchen.
How often should a 6 inch chef knife be sharpened?
The frequency of sharpening a 6 inch chef knife will depend on several factors, including how often you use the knife and the type of cutting board you use. As a general guideline, it is recommended to sharpen your chef knife every three to six months for regular home use. However, if you find that your knife is becoming dull or less effective sooner, it may require more frequent sharpening. Remember, a sharp knife not only ensures efficient and precise cuts but also reduces the risk of accidents in the kitchen.
Is a 6 inch chef knife suitable for beginners?
Yes, a 6 inch chef knife is often considered an excellent choice for beginners in the kitchen. Its smaller size and lighter weight make it easier to handle and maneuver, allowing beginners to have better control over their cuts. Additionally, a 6 inch chef knife offers the versatility needed for a wide range of tasks without overwhelming beginners with a larger and heavier knife. It is always advisable for beginners to start with a smaller knife before transitioning to larger ones as they become more comfortable and experienced in the kitchen.
What price range should I expect for a good quality 6 inch chef knife?
The price range for a good quality 6 inch chef knife can vary depending on the brand, materials used, and overall craftsmanship. Generally, you can find reliable and durable options in the range of $50 to $150. Knives on the lower end of the spectrum may still offer decent performance and durability but may require more frequent sharpening and maintenance. On the other hand, investing in a higher-end knife can provide better edge retention, improved ergonomics, and overall longer lifespan. Ultimately, it is important to choose a knife that fits within your budget while also ensuring it meets your specific needs and preferences in the kitchen.
Conclusion
6 inch chef knives are great for slicing precisely and handling bigger tasks too, making them really useful in the kitchen. Each knife has its own unique strengths and qualities that help with different cooking tasks. Some are strong and sturdy, like the ones made with German steel, while others are more delicate and precise, like the ones from Japan. No matter which type you prefer, having a 6-inch chef knife is like having a trusty cooking companion. They make cooking more enjoyable and help create delicious meals with their special skills.
I'm Amelia! A passionate foodie, avid home cook, and your go-to guide for all things kitchen. From sizzling pans to innovative gadgets, join me on my flavorful adventures as I whip up honest reviews and delightful dishes, making every meal a masterpiece.