Damascus chef knives are super popular because they're tough and have cool patterns on their blades. But there's a twist – not all knives that say they're Damascus are the real deal. That's where things can get tricky.
A Damascus knife is a super good kitchen tool. It's famous for being sharp, strong, and looking awesome. Making these knives is like making a work of art – it takes a lot of time and skill.
Imagine having a knife that's not just for chopping but also a piece of art! But wait, there's more! We're going to explore the best Damascus kitchen knives out there. I'll show you the coolest ones you can get right now and tell you how they're different from each other. Get ready to find your perfect kitchen sidekick – a super cool Damascus chef knife!
We are supported by its audience. We independently evaluate all recommended products. If you purchase through external links on our site, we may earn a commission. For more details,
read here
.
---
In Hurry? Check out this comparison chart
| Image | Model | Prices |
| --- | --- | --- |
| | Enso Chef's Knife | |
| | Miyabi Fusion Morimoto Edition Chef's Knife, 8-inch | |
| | Shun Cutlery Classic Blonde Chef's Knife 8" | |
| | Sakai Takayuki Chef Knife | |
| | Zelite Infinity Santoku Knife 7 Inch, Santoku Chef Knife | |
Why You Should Have a Damascus Knife in Your Kitchen
Just like the historical legends of its use in crafting the finest swords, Damascus steel is a true marvel. Its distinct wavy design adds a touch of timeless beauty to its functionality. Renowned for being sharp, strong, and reliable, these knives bear the trademark wavy pattern on their steel blades.
Aesthetic Charm
Admit it, appearances count. And a Damascus knife is a visual delight. Those mesmerizing patterns formed during the welding process create a knife that's not just a kitchen tool, but a piece of art. It's the best of both worlds – a kitchen essential with a touch of elegance.
Cutting Excellence and Long-lasting Sharpness
The welding technique behind Damascus steel ensures that different steel layers wear differently, keeping the knife sharp even after extensive use. With time, this wear forms micro serrations, enhancing the blade's sharpness. Think of it as a blade that ages like fine wine, but it's steel, not grapes.
Resilience and Impact Tolerance
Got a heavy hand in the kitchen? No worries. A Damascus steel knife won't break that easily. The blend of high and low-carbon stainless steel grants it added toughness and the ability to endure impacts.
Every time I use my Damascus chef knife, I'm reminded of its unmatched performance, stunning design, and the craftsmanship that goes into making it. It's not just a knife – it's a partner in my culinary journey, elevating my cooking and making me feel like a true kitchen maestro.
Types of Damascus Knives
As a seasoned home cook, I've navigated through the expansive world of kitchen knives with precision. But let me tell you, among the finest are the various types of Damascus chef knives. These aren't mere tools; they're an amalgamation of craftsmanship and functionality that have significantly heightened my culinary prowess.
Damascus Santoku Knife
The Damascus Santoku knife, a true culinary rock star, has revolutionized my kitchen experience. Boasting a sharp edge and distinctive pattern, it handles slicing, dicing, and chopping tasks with seamless finesse. It has undeniably become my kitchen essential for a multitude of tasks.
Damascus Gyuto Knife
Enter the Damascus Gyuto knife, a multi-functional marvel that I rely on for a range of culinary adventures. This knife effortlessly glides through meats, vegetables, and even delicate herbs. Its exceptional versatility and razor-sharp edge transform every culinary endeavor into a breeze.
Damascus Paring Knife
For those intricate tasks demanding precision, the Damascus Paring knife steps in as my trusty ally. Whether it's peeling, trimming, or creating intricate garnishes, this knife handles delicate work like a true virtuoso. Its finesse allows me to execute even the most intricate cuts with confidence.
Damascus Bread Knife
The Damascus Bread knife, a serrated wonder, takes on crusty bread, tomatoes, and cakes with remarkable finesse. Its sharp teeth maneuver through challenging textures without compromising on presentation. This knife truly embodies the art of controlled cutting.
Damascus Cleaver
A culinary powerhouse that I wield with confidence. More than just a meat cutter, this knife effortlessly conquers bones and dense vegetables, streamlining prep work and adding an element of precision to my cooking endeavors.
Best Damascus Chef Knives in 2023 – Reviews
Enso Chef's Knife

Enso knives, proudly a part of the Yaxell brand, offer a unique blend of craftsmanship and functionality that caught my attention.
What stood out to me is how Enso places a special emphasis on their knife handles, and I must admit, they've nailed it. The Enso HD Santoku, a delicate yet sturdy knife, showcased a blade that's thinner than the typical western chef knife. The touch of santoku style added a unique edge to its versatility, while the bevel in the grind remarkably reduced the chipping risk.
When I held the Enso Chef's Knife, its hidden tang provided a solid feel, reminiscent of a Shun Classic. The weight, slightly heavier due to the linen Micarta, added to its stability and control.
As I glided through slicing tasks, I noticed the blade's sharpness, though with a distinct feel of controlled resistance, which might be due to its beveled edge. It effortlessly sliced through tomatoes, meat, and herbs, all while being lighter and better balanced than my other knives.
The beautiful Damascus steel blade with its hammered finish and rosewood handle adorned with a mosaic pin truly made a statement. However, I did find room for improvement in the handle's ergonomics – while not uncomfortable, it could fit the hand better.
Maintenance was straightforward, with regular honing using a ceramic rod and careful hand washing after each use. The knife's edge retention was impressive, and while I haven't needed to sharpen it yet, I'm confident in its ability to hold up.
The Enso HD Santoku not only performs well but also shines as a gift with its striking appearance and superior cutting action.

Miyabi Fusion Morimoto Edition Chef's Knife, 8-inch

The Miyabi Fusion Chef's Knife boasts a captivating blend of beauty, precision, and comfort. Its balanced weight and the ergonomic western-style handle were a pleasant surprise. I personally find this handle design more appealing and practical compared to the traditional Japanese round design.
Crafted in collaboration with Iron Chef Masaharu Morimoto, the Fusion line combines a durable VG-10 cutting core with 64 layers of softer steels, resulting in a mesmerizing 'Flower Damascus' pattern. This blade isn't just eye candy – it's a performer. The VG-10 core's blend of Cobalt, Molybdenum, and Vanadium translates into exceptional sharpness and edge retention. The Cryodur process, which ice-hardens the blade, ensures edge longevity, flexibility, and corrosion resistance.
Straight out of the box, the blade showcased a vicious sharpness that held its ground even after tackling a multitude of cutting tasks. The balance, a marriage of perfection and precision, allowed it to seamlessly become an extension of my hand.
As a versatile companion, the Miyabi Fusion Chef's Knife excelled in dicing, chopping, mincing, and slicing tasks. It navigated through meats and vegetables with ease, delivering precise cuts. The rounded spine offered comfort in my pinch grip, enhancing my cutting experience.
The only area where it fell slightly short was the finishing of the handle. However, it's a minor gripe considering the overall excellence of the knife. This beauty isn't dishwasher-friendly, but with proper care and maintenance, it's sure to grace your kitchen for years to come.
In a nutshell, the Miyabi Fusion Chef's Knife is an embodiment of functionality and aesthetics. It's the go-to tool for 90% of my cutting needs, effortlessly handling tasks both at home and in my culinary ventures. Its performance has yet to be dulled, and I'm curious to see how it fares in the sharpening realm as time goes on.

Shun Cutlery Classic Blonde Chef's Knife 8"

At first glance, you can't help but admire its elegance. But what truly makes this knife stand out is its razor-sharp edge. I'm talking about a mean razor edge that glides through ingredients effortlessly. The weight distribution is right in the sweet spot, making it incredibly comfortable to hold and maneuver.
What caught my attention is the seamless blend of Western blade shape with Japanese-style finesse. This unique combination means you don't have to relearn your cutting technique. It's like getting the best of both worlds – the sharpness of Japanese blades without the adjustment fuss.
The traditional D-shaped handle is a beginner's friend. It offers comfort and familiarity, accommodating both standard and pinch grips. Whether you're a seasoned chef or just stepping into the culinary realm, this handle style ensures a friendly grip.
Now, let's talk about the blade. Simple yet highly functional, it boasts a flat section for swift chopping, a slight belly for seamless slicing, and a pointed tip for piercing. It covers all the essentials with elegance.
The Pakkawood handle, designed in the shape of a D, feels like a natural extension of your hand. It's a composite wood that resists moisture and temperature changes, maintaining its charm and functionality over time.
Shun doesn't just prioritize looks; they're all about function and form. The Shun Classic Blonde Chef's Knife isn't just a tool; it's a statement piece in your kitchen. It marries aesthetics with performance flawlessly, delivering an unmatched cutting experience.
Sakai Takayuki Chef Knife

From the moment I laid eyes on the Sakai Takayuki gyuto knife, I knew I was in for something special. As someone who has used numerous gyutos, this one truly stands out. Its unique appearance, reminiscent of a classic French knife, sets it apart from the typical Japanese gyuto with its slim blade.
When you hold this knife, you'll immediately feel its well-balanced weight and neutral grip. It's perfectly suited for a pinch grip, ensuring comfort during extended periods of use.
Straight out of the box, the Sakai Takayuki knife impresses with its sharpness. However, there's an extra level of sharpness that can be achieved with the right techniques. The blade geometry and hammer imprints contribute to its effortless glide through food.
The blade itself is a work of art, featuring a VG-10 core embraced by 33 layers of exquisite Damascus steel cladding. The hand-hammered finish adds to its allure.
While VG-10 stainless steel is known for being challenging to sharpen, the Sakai Takayuki's VG-10 is heat-treated to 60 HRC using a specific tempering process. This ensures a remarkable balance between hardness and flexibility. The result is a blade that maintains a sharp edge for extended periods while remaining easy to sharpen.
The fit and finish of this gyuto knife are commendable, with no sharp spots on the choil or spine. The Japanese kanji engraved on the blade adds a touch of authenticity, and the shiny finish makes it a true showstopper in the kitchen.

Zelite Infinity Santoku Knife 7 Inch, Santoku Chef Knife

This knife stands out from the crowd of Japanese chef knives I've tested. It's evident right from the first glance – the shape, weight, handle style, and finishes are different. While other knives are tailored to European and North American kitchens, the Zelite Infinity is in a league of its own.
The design choices are tasteful and understated, from the packaging to the subtle yet ornate inlay of brass, copper, and stainless steel on the handle. The Damascus folds, with 33 layers of high carbon stainless steel on each side surrounding the sharper core, add to its unique look.
The handle, a departure from traditional Japanese style, is larger, heavier, and curved – distinctly Western in design. It might not be as ergonomic as some, but it brings a comfortable, secure grip. The curved cutting edge is reminiscent of Western chef's knives, offering great rocking action while cutting.
The Granton edge with tiny air pockets prevents food from sticking to the blade, enhancing both performance and aesthetics. The extra weight comes in handy for tougher cuts like breaking down a chicken or preparing dense vegetables.
The half-bolster is thoughtfully tapered with rounded edges, ensuring a comfortable pinch-grip hold – a notable contrast to knives with rough or sharp spines. The handle, a composite of fiberglass and epoxy, is visually appealing, but I found it can become slippery when wet or greasy.

Features to Consider when Choosing a Damascus Chef Knife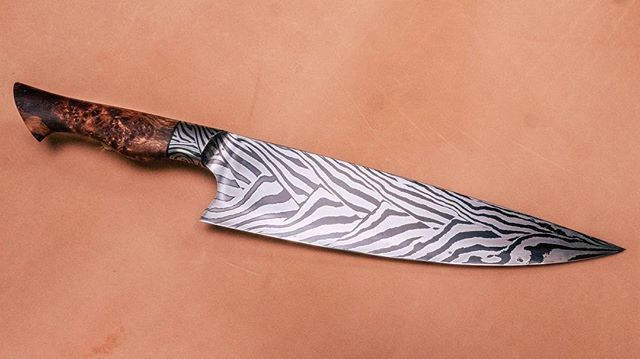 As someone deeply invested in the art of cooking, selecting the perfect Damascus chef knife is a decision I don't take lightly. It's not just about a tool; it's about finding a culinary partner that aligns with my needs. Here's a breakdown of the key features that guide my choice:
1. Steel Type and Number of Layers

The heart of any Damascus knife lies in its steel composition and layering. I pay keen attention to the steel type, often opting for high-carbon stainless steel for its impeccable sharpness and durability. The number of layers is equally crucial – the more layers, the more intricate the blade's pattern. It's a balance between aesthetics and performance, and finding the right equilibrium is paramount.
2. Handle Design and Material
A Damascus chef knife's handle is more than just a holder; it's an extension of my hand. I opt for ergonomic designs that offer a comfortable grip and reduce fatigue during prolonged use. The material matters too – I often lean towards handles made from materials like wood or synthetic compounds that provide durability and a secure grasp even when wet.
3. Price
Price often plays a pivotal role in my decision-making process. While the allure of intricate Damascus patterns can be tempting, I ensure the knife falls within my budget. I've come to realize that quality doesn't always equate to exorbitant prices; there are exceptional options that offer an excellent blend of performance and affordability.
4. Additional Knife Features
The devil is in the details, and Damascus chef knives come with a range of additional features that cater to diverse culinary needs. Serrated edges for delicate tasks, bolster designs that enhance balance, and blade lengths that align with my preferences – each detail is a piece of the puzzle that contributes to a tailored culinary experience.
Selecting a Damascus chef knife involves a thoughtful evaluation of these features. It's not just about acquiring a tool; it's about investing in a culinary companion that enriches my cooking journey. Each feature, from steel to handle design, converges to create a knife that not only meets my expectations but surpasses them, making every slice, dice, and chop a true delight.
Maintenance and Care Tips for Damascus Steel Knives
Owning a Damascus steel knife is a privilege that demands attention to ensure its longevity and performance. As someone who values their culinary tools, I've learned that proper maintenance is the key to keeping these intricate works of art in impeccable condition. Here's how I nurture and care for my Damascus steel knives:
1. Gentle Hand Washing
I treat my Damascus steel knives with the utmost care, beginning with hand washing. I avoid harsh scrubbers or abrasive materials that could damage the delicate patterned surface. A gentle sponge and mild dish soap are my allies in maintaining the knife's allure without compromising its integrity.
2. Prompt Drying: Shielding Against Corrosion
After washing, I ensure the knife is thoroughly dried to prevent any moisture-related issues. This step is particularly crucial for Damascus steel, as prolonged exposure to water can lead to corrosion. A soft towel or cloth works wonders in safeguarding the blade's pristine beauty.
3. Regular Honing: Sustaining Sharpness
Honing is my Damascus steel knife's secret weapon against dullness. I use a honing rod to realign the blade's edge, ensuring it remains razor-sharp. It's a practice that not only prolongs the knife's sharpness but also enhances its cutting performance over time.
4. Storage

Proper storage is a non-negotiable aspect of caring for my Damascus steel knives. I steer clear of overcrowded drawers, opting instead for magnetic knife strips or knife blocks that allow each blade to rest securely without contact with other utensils.
5. Oiling

To fend off rust and ensure the blade's resilience, I occasionally apply a thin layer of food-grade mineral oil to the blade. This protective measure shields the steel from the elements, preserving its allure and integrity.
6. Utilize Appropriately
Every knife has its purpose, and I ensure I use my Damascus steel knife for tasks it's designed for. Whether it's slicing, dicing, or mincing, respecting the knife's intended function enhances its lifespan and performance.
7. Periodic Maintenance
For complex issues like blade chipping or major dullness, I entrust my Damascus steel knife to a professional. They possess the expertise to restore the knife's functionality while preserving its aesthetic appeal.
Frequently Asked Questions about Damascus Steel Knives
What is the best oil to use on Damascus steel knives?
For maintaining Damascus steel knives, food-grade mineral oil is recommended. Applying a thin layer of this oil helps protect the blade from rust and maintains its lustrous appearance.
Are Damascus knives food safe?
Yes, Damascus knives are food safe. They are crafted from high-quality steel, and as long as proper cleaning and maintenance are observed, they are safe for use in food preparation.
Is Damascus steel waterproof?
While Damascus steel is known for its durability and resistance to corrosion, it's still advisable to avoid prolonged exposure to water. Regular drying and occasional oil application help prevent moisture-related issues.
How does Damascus steel differ from normal steel?
Damascus steel stands out due to its distinctive layered pattern, achieved through a meticulous forging process that involves folding and welding different types of steel together. This results in exceptional strength, sharpness, and aesthetic appeal that distinguish it from conventional single-layered steel.
Conclusion
As we wrap up our journey through the world of the best Damascus knives, it's clear that these knives are something truly special. They bring together beauty and usefulness in a way that's hard to beat. The way these knives are carefully made, combining history and new ideas, is pretty amazing. They're super sharp, tough, and they look great too – a perfect combo for any cooking adventure. So, if you're a cook like me, having one of these Damascus knives in your kitchen is like having a trusted friend who can make your cooking experiences even better.
I'm Amelia! A passionate foodie, avid home cook, and your go-to guide for all things kitchen. From sizzling pans to innovative gadgets, join me on my flavorful adventures as I whip up honest reviews and delightful dishes, making every meal a masterpiece.